trac-hacks.org is moving
In the coming months trac-hacks.org will be moved to a new server, which should provide better availability and performance than the existing hosting. At the moment we continue to experience intermittent but brief downtime, and slow site performance, which we are aiming to resolve with this move.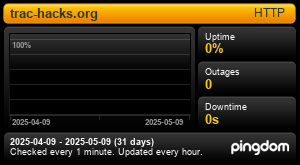 Edgewall, which created and continues to host Trac, Genshi and Babel has generously offered to provide the hosting for trac-hacks.org. From a user standpoint, nothing will change except for an improved experience in accessing the site. Hosting by Edgewall should ensure that trac-hacks.org remains available with free hosting for Trac plugins for a long time to come.
Following the site move, the trac-hacks.org admin team can start focusing on more improvements to the site, so stay tuned! Please don't hesitate to comment if you have any questions or concerns.